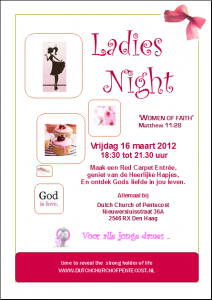 Ladies Night!
Een gezellige en inspirerende avond voor jou en je vriendinnen op vrijdag 16 maart 2012 om 18.30 uur.
Thema: Women of Faith, ontdek wat het geloof in God voor jou als vrouw kan betekenen.
En hoe eerder je er bent, hoe meer je kunt genieten van allerlei verwen activiteiten en hapjes.
Dus mis het niet bij Dutch Church of Pentecost.