Pre Marriage Seminar, Water Baptism and Prayer Gathering. Read all about it here and don't miss out.
Prayer Gathering, Wednesday 25 Juni 2014 at 7 PM
Water Baptism, Saturday 28 Juni 2014 at 12 AM
Pre Marriage Seminar, Sunday 29 Juni 2014 at 1 PM
Don't miss out and be there !!
Questions about Water Baptism??
Read here al about water baptism by Pastor James Otchere:
http://www.dutchchurchofpentecost.nl/water-baptism-biblestudie/
Or listen to the sermon of Pastor Ennin: http://www.dutchchurchofpentecost.nl/blog/water-baptism-sermon-video
Bible verses about water baptism:
Galatians 3:26-27 For you are all sons of God through faith in Christ Jesus, for as many of you as were baptized into Christ have clothed yourselves with Christ.
Titus 3:5 Not by works of righteousness which we have done, but according to his mercy he saved us, by the washing of regeneration, and renewal of the Holy Spirit
Acts 22:16 And now why do you wait? Rise and be baptized, and wash away your sins, calling on his name.
I Peter 3:21 This is a symbol of baptism, which now saves you also – not the removal of dirt from the body, but the answer of a good conscience toward God, it saves you by the resurrection of Jesus Christ.
Also read Acts 8:26-40
Pre Mariagge Seminar
Theme: Preparing towards marriage
Topics: Christian courtship, types of marriage ceremony's, youth and sex.
Be there and get well informed.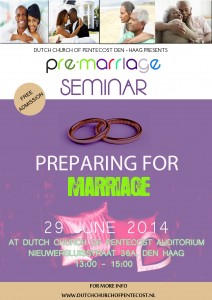 Prayer Gathering
Every last wednesday of the month. And its happening this week again. Be there!